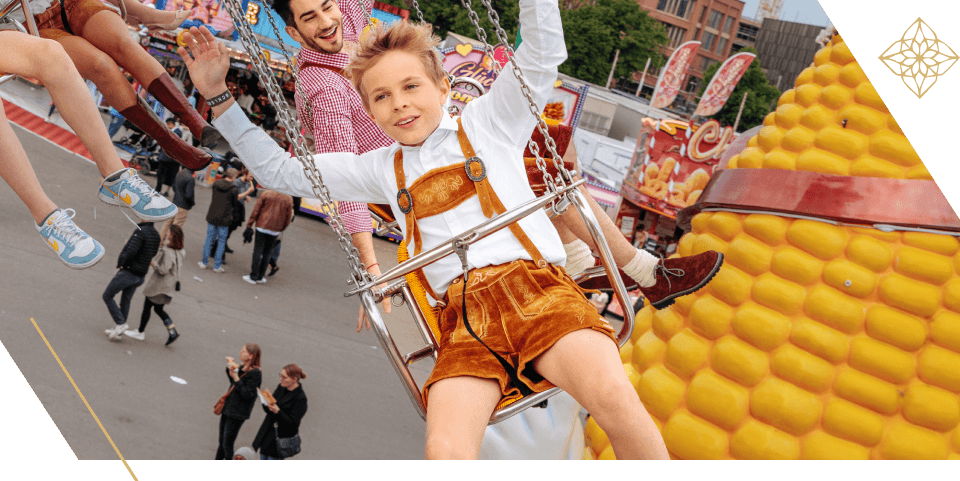 Lederhosen for kids: Bavarian style for the little ones
You got the perfect outfit for the Oktoberfest? But what about your kids? 
Don't be worried, the traditional Lederhosen and other Bavarian outfit can also be worn by your kids in their size. You will find all the information needed in order for you to choose the right traditional clothing for your kids for the Oktoberfest.
The history of Lederhosen for children
Lederhosen have been a staple in Bavaria, Austria, and Southern Tirol since the 18th century, serving as functional work and hunting attire for the working class. But did you know that children's Lederhosen have a past as well?
Dating back to the early 20th century, schoolboys throughout Germany wore leather pants as everyday clothing, with traditional kids' Lederhosen remaining popular until denim jeans took the stage in the late 1970s.
Today, children's Lederhosen have made a fashionable comeback, both in and out of traditional celebrations.
Gifting Lederhosen to your child, nephew, niece, or grandchild is a wonderful way to introduce them to the cultural German roots and teach them about the importance of preserving traditions. 
Kids wearing Lederhosen can participate in festivals and family gatherings, proudly showcasing their heritage and bonding with their community.
Lederhosen for Kids: Is there a difference compared to the adult Lederhosen?
Children's Lederhosen are crafted with the same attention to detail and quality materials as their adult counterparts. Made from 100% genuine leather and featuring intricate embroidery, these garments are both stylish and comfortable. The adjustable suspenders ensure a snug fit, allowing your child to move around freely while looking their best.
The kid's Lederhosen: durable and low-maintenance
A key advantage of kids' Lederhosen compared to other clothing is the minimal cleaning effort required. Although machine washing should be avoided, professional cleaning is only necessary for severe dirt or stains.
Light dust and lint can easily be removed using a soft leather brush or wide tape. Just brush the Lederhosen outdoors or press the tape onto the material and gently peel it off.
You don't need to worry about grease stains either. They usually disappear on their own as the grease is absorbed into the leather, giving it their unique look.
After extended wear, a beautiful patina naturally develops on the Lederhosen, giving it that authentic, well-loved look perfect for attending traditional festivities and beyond.
So, let the little ones join in the fun while rocking their stylish and easy-to-care-for Lederhosen
Kids' Lederhosen fitting: An easy guide
Since leather is a natural material, the fit of kids' Lederhosen may change a bit after the first wear. Body heat and moisture can also influence these alterations. That's why it's essential to ensure the Lederhosen aren't too loose during the fitting.
It's best if they're slightly tight, allowing the material to expand and achieve the ideal fit later on. The kids' Lederhosen normally come with a leather strap above the buttocks, allowing you to adjust the width around the hips so the pants can grow with your child.
Have your child do a few squats during the fitting to test the leather's flexibility and freedom of movement. For both boys and girls, Lederhosen with suspender straps are ideal. They help keep shirts or blouses tucked in and prevent the Lederhosen from slipping during energetic activities.
Thanks to adjustable straps, Lederhosen for kids can be worn for multiple seasons.
Lederhosen for kids: Watch out for these properties
Unisex Lederhosen for kids are designed to capture the charm and authenticity of traditional adult Lederhosen while providing a comfortable fit for children.
Some key features of kids' Lederhosen should be:
High-quality materials: Just like adult Lederhosen, children's Lederhosen should be made from durable and genuine leather or suede. This ensures that the pants can withstand the wear and tear of active kids while maintaining their shape and appearance.
Adjustable suspenders: Kids' Lederhosen mostly come with adjustable suspenders, ensuring a comfortable and secure fit as your child grows. The suspenders are often adorned with intricate embroidery or metal buckles, adding a touch of traditional Bavarian charm to the outfit.
Comfortable fit: Children's Lederhosen are designed to be roomy and comfortable, allowing for freedom of movement during playtime and other activities. They often feature elastic waistbands or adjustable side lacing to accommodate growth spurts and ensure the perfect fit.
Embroidery and design elements: Like their adult counterparts, kids' Lederhosen often showcase intricate embroidery and design elements that reflect the rich heritage and craftsmanship of Bavarian culture. These embellishments can include regional motifs, florals, and even family crests or initials.
Kids' Lederhosen: A timeless fashion choice for the modern generation
Lederhosen for kids offer a unique and charming way to celebrate and explore Bavarian culture and heritage. By choosing high-quality materials, comfortable fit, and coordinating accessories, you can create an authentic and memorable outfit that your child will love to wear for various occasions.
So go ahead, embrace the timeless charm of Lederhosen, and let your little ones enjoy the rich traditions of Bavarian style.
Subscribe to get special offers, free giveaways, and once-in-a-lifetime deals.