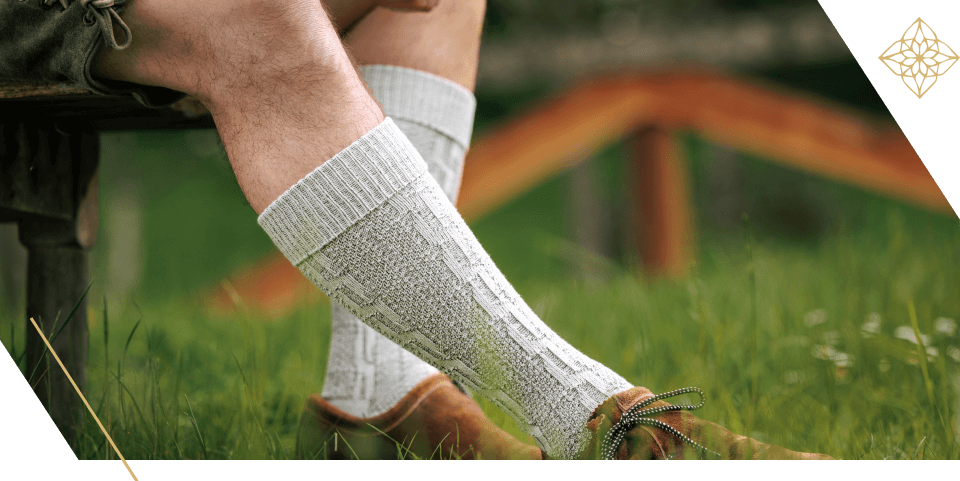 Lederhosen socks - our guide how to wear and pair them
Are you looking for a stylish way to add a fitting touch to your Lederhosen Outfit? Try the authentic wool socks! These traditional German knee-length socks are an excellent way to complete your outfit. 
Additionally, to the right socks, you can opt for traditional calf-warmers or Loferls. Historically, men would wear sock liners only that would not be visible due to the ankle-length shoes. But, modern versions of the design come with matching ankle socks.
Make sure to choose a pair that matches or complements the color of your Lederhosen.
What are Lederhosen socks?
Lederhosen socks, also known as Trachtensocken, are traditional knee-length socks that are worn with Lederhosen. They are typically made of wool and come in various colors, patterns, and designs. These socks are an essential part of a complete Lederhosen outfit, and choosing the right pair can make all the difference in your overall appearance.
How to wear Lederhosen socks?
To wear Lederhosen socks, pull them up to your knees and fold the top over the edge of your Lederhosen. The fold should be about 2–3 inches above the top of the Lederhosen. This creates a clean and polished look. Be sure not to wear the socks too high or too low, as this can ruin the overall appearance of your outfit.
What socks to wear with Lederhosen?
When it comes to selecting socks to wear with Lederhosen, there are a few factors to consider.
The first is the color of your Lederhosen. If you're wearing brown or tan Lederhosen, choose socks in a complementary color such as beige, gray, or dark green. If you're wearing black Lederhosen, opt for black or dark gray socks.
The second factor to consider is the design of the socks. Traditional Lederhosen socks come in a range of designs, from simple stripes to elaborate patterns. Choose a design that complements your overall outfit and reflects your personal style.
What shoes to wear with Lederhosen socks?
Lederhosen socks are typically worn with traditional Bavarian shoes, such as Haferl shoes or Tracht shoes. These shoes have a sturdy construction and are made from high-quality materials such as leather. They come in various colors, including brown, black, and beige, and complement the style of Lederhosen socks perfectly.
Avoid wearing athletic shoes or sandals with your Lederhosen outfit!
How to care for Lederhosen socks?
Lederhosen socks are typically made from wool and require special care to ensure they last a long time. Always read the care instructions on the label before washing your socks.
In general, you should handwash your Lederhosen socks in cold water and lay them flat to dry.
Avoid using hot water or putting them in the dryer, as this can shrink or damage the wool fibers.
How to match Lederhosen socks with other accessories?
When pairing your Lederhosen socks with other accessories, consider the color and design of your overall outfit. If you're wearing a traditional Bavarian hat, choose a hat band that matches the color and design of your socks. 
You can also choose a shirt or vest that complements the colors in your socks. Adding a scarf or a pocket square that matches the design of your socks is also a great way to tie your entire outfit together.
Conclusion
Lederhosen socks are a great way to add a stylish touch to any outfit. They come in many different styles and colors, so you can find the perfect pair for any occasion. With some creative accessorizing, you can make your look stand out from the crowd! 
Whether it's everyday casual wear or special occasions, Lederhosen socks are sure to give any outfit an iconic German flair that will last all day long.
FAQ
Are Lederhosen socks necessary?
Yes, Lederhosen socks are a necessary part of the traditional Bavarian outfit. Not only do they provide a finishing touch to your look, but they also serve a functional purpose of keeping your legs warm in the chilly fall weather.
Can I wear regular socks with Lederhosen?
While you technically can wear regular socks with Lederhosen, it is not recommended. Traditional Lederhosen socks, or Loferls, are specifically designed to complement the outfit and provide an authentic Bavarian look. Plus, regular socks may not provide the necessary warmth or be the right length for the outfit.
How should I care for my Lederhosen socks?
Lederhosen socks should be hand-washed in cold water and hung to dry. Do not put them in the dryer as the heat may damage the delicate wool fibers. It's also important to store them in a dry, cool place to prevent damage or mildew.
Subscribe to get special offers, free giveaways, and once-in-a-lifetime deals.