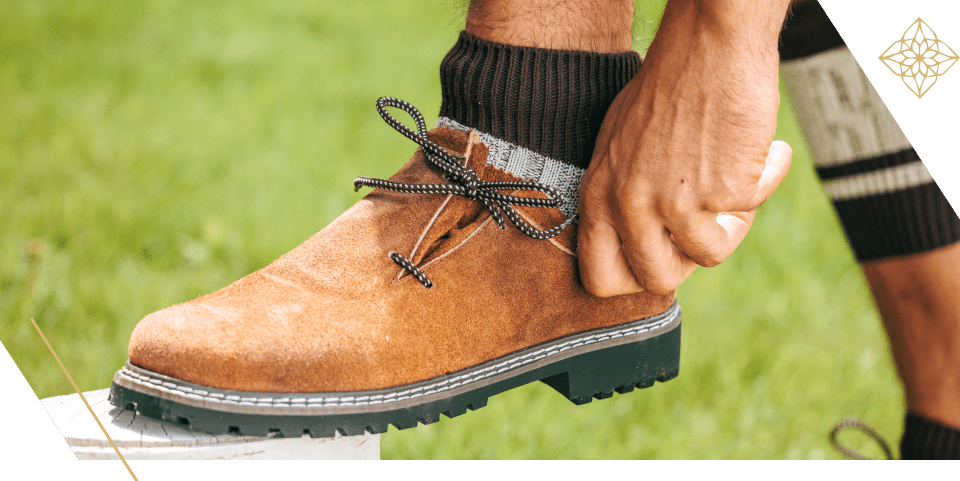 The perfect pair: Matching shoes to your Lederhosen for Oktoberfest
Whether you're a traditionalist or modern trendsetter, finding the right shoe to go with your Lederhosen is essential. You want something that's comfortable, stylish, and appropriate for both traditional celebrations as well as other festivities. Whether you're looking for a timeless classic or fashionable statement piece, there are plenty of options to choose from. 
Haferlschuhe: State of the art for traditional footwear
For a traditional look, go for Haferlschuhe. With a wood structure bottom and rubber cleated bumps for excellent grip, and a smooth leather or suede exterior with lace closure, these shoes are built to last.
The thick-soled shoes are low-cut around the ankle, making it a suitable for many occasions. And with matching brown and earthly shades to complement your Lederhosen, you'll be the most authentic-looking Bavarian around.
The exciting history of Haferlschuhe
Like most German traditions, the Haferlschuhe has an interesting history. Designed as boots for working in the mountainous alpine region, features such as the solid wooden sole and rubber cleats were added for added strength.
Soon recognized for its durability and stability, it spread into all aspects of Bavarian life and is now an unparalleled part of all outfits for both men and women.
Legend has it that the designer was inspired by the hooves of mountain goats, which may be where the shoe's name comes from. Regardless, it remains a popular choice, especially for traditional occasions.
How to take care of the Lederhosen shoes like the Haferl
For those looking to keep their Bavarian Harferlschuhe looking as good as new, proper care is essential. 
After every wear, clean and condition the leather with an all-natural cleaner and conditioner. Before you put them away for storage, stuff the toes with tissue paper or blankets to help preserve the shape. 
If moisture enters your shoes, remove them immediately and allow to dry naturally in a cool place, away from direct sunlight or extreme heat. Then brush off any dirt or debris before spraying with a waterproofing spray designed for leather footwear. 
Finally,  buff the leather gently with a lint-free cloth to protect it against stains and premature wear. With this simple care routine, you can keep your Bavarian Haferlschuhe looking like new for years to come!
Footwear choices beyond the traditional shoes
If you can't get your hands on a pair of Haferlschuhe, don't worry - there are other options to fit your Lederhosen outfit. 
Quality animal skin leather is the star of the show, so consider leather dress boots that end right above the ankle, or leather sneakers for a comfortable and stylish alternative. Just be sure to match the shade of leather to complement your Lederhosen.
Coordinating your outfit with Lederhosen
Don't forget about appropriate legwear to complement your footwear choice. You need the traditional Bavarian Loferls - calf-warmers worn on the lower leg. Historically, no socks were worn, but modern versions come with matching ankle socks for added warmth. 
Coordinate your Lederhosen, shoes, and Loferls for a truly authentic image of Bavarian culture.
Conclusion
Whether you are a traditionalist or trendsetter, having the perfect pair of shoes to match your lederhosen for Oktoberfest is essential. With an array of options ranging from Haferlschuhe to leather boots, there's sure to be something that works for every style and budget. Now you can complete your look for any Oktoberfest celebration!
FAQ
What shoes to wear to Oktoberfest?
When it comes to footwear for Oktoberfest, it's important to choose something comfortable and practical, as you'll be spending a lot of time on your feet.
Closed-toe shoes are recommended, as they'll keep your feet warm and protected. For men, Haferlschuhe are a popular choice, as they're comfortable and stylish.
Women can opt for ankle boots, which are practical and fashionable. Whatever shoes you choose, make sure they're comfortable before the festival.
What not to wear with Lederhosen?
While Lederhosen and Dirndl dresses are steeped in tradition and sophistication, pairing them with casual sneakers or sandals is a major faux pas. 
Not only does it detract from the overall appeal of your outfit, but it also undermines its power. 
Footwear choices should also consider the environment, such as broken glass and liquids found at Oktoberfest. Avoid wearing flip-flops or exposing your toes to prevent sticky, greasy, or injured feet by the end of the day. 
Subscribe for a chance to win a 5-day trip to Munich for two