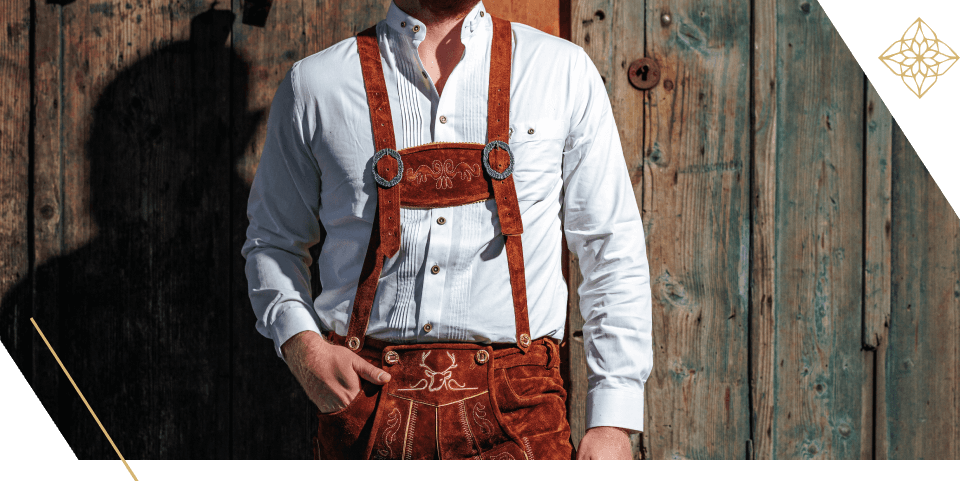 Get your Lederhosen style on point: How to complete your outfit with an authentic shirt!
You've put your Lederhosen on, but what shirt do you pair with it? Look no further than our collection of Lederhosen shirts for men! We have a variety of styles and colors to choose from, including the classic checkered blue, white, and classic checkered red. We've got you covered with some essential tips to complete your Lederhosen look.
What kind of shirt to wear with Lederhosen: A guide to traditional Bavarian style
When choosing the perfect shirt to combine with Lederhosen, traditional checkered or white long sleeve button-up shirts are the most popular choices. These shirts typically feature a button on the upper arm, allowing you to roll up the sleeves and secure them in place for added style and comfort.
Checkered shirts are available in a variety of colors, with red, and blue being the most commonly seen combinations. However, you can also find other colors to suit your personal taste or to match a specific event's theme.
While you can pair almost any color shirt with your Lederhosen, it's a good idea to consider your partner's outfit if you plan to attend an event together. Matching your shirt color with your partner's Dirndl will create a coordinated and visually appealing couple's look, turning heads at any Oktoberfest celebration or festive gathering.
So, when selecting a shirt to wear with your Lederhosen, opt for a traditional checkered or white long sleeve button-up to embrace the authentic Bavarian style and make a memorable impression at your next event.
Classic checkered blue Lederhosen shirt - the perfect combination of tradition and trend
This shirt features a pattern of alternating light and dark blue squares, creating a visually appealing and traditional look. It also matches the Bavarian flag colors.
The shirt has a collar and buttons down the front, as is typical for this style. The blue and white checkered pattern will complement any Lederhosen outfit, while the high-quality fabric ensures comfort and durability. This shirt also features a chest pocket and button-up closure for a classic look.
It is designed to be worn with traditional Bavarian Lederhosen outfits and can be paired with suspenders and other traditional accessories for a complete look.
White Lederhosen shirt - for a timeless and more traditional look
The plain white color gives it a versatile and classic look that can be easily paired with various Lederhosen colors and styles. The shirt features a collar and a front button closure, which are common elements in this type of clothing.
The white shirt might have some decorative elements, such as embroidery or subtle patterns, which would add a touch of elegance and tradition to the design. The fabric used for the shirt is likely comfortable and breathable, such as cotton or a cotton blend, making it suitable for various events and celebrations, including Oktoberfest and other festive gatherings.
Overall, this white Lederhosen shirt is a versatile and timeless piece that can be worn with traditional Bavarian attire for an authentic and stylish look.
Classic checkered red Lederhosen shirt - Add a pop of color to your Lederhosen ensemble
The red and white checkered pattern is eye-catching, while the high-quality fabric ensures comfort and longevity. This shirt also features a chest pocket and button-up closure for a classic look.
No matter which shirt you choose, however, you should ensure that it is well-fitted. If you're shopping online or in stores with limited sizes available, opt for a larger size instead of settling for something too small or tight. You want your shirt to fit snugly, but still offer enough room for movement when dancing or walking around during your celebrations.
Accessorizing your outfit  
Once you have picked out your Bavarian shirt, there are several other accessories that will help complete your look! 
A pair of Lederhosen is an absolute must-have for an authentic Oktoberfest experience—it wouldn't be complete without them!
Finish off the ensemble with some suspenders if you like — they'll help keep everything in place while also looking great! 
And don't forget your socks — white knee socks with green or yellow stripes at the top will really go a long way towards completing your look. 
Conclusion 
There's no denying that wearing traditional Bavarian attire makes celebrating Oktoberfest even more fun! With so many options available when it comes to picking out your outfit—from finding the perfect Bavarian shirt to accessorizing with suspenders—you can make sure that you look just as good as you feel during this festive event. 
With these tips in mind, we wish all our readers great success in finding their ideal Oktoberfest attire! Prost!
Subscribe to get special offers, free giveaways, and once-in-a-lifetime deals.