BAVARIA TRACHTEN Women's Lederhosen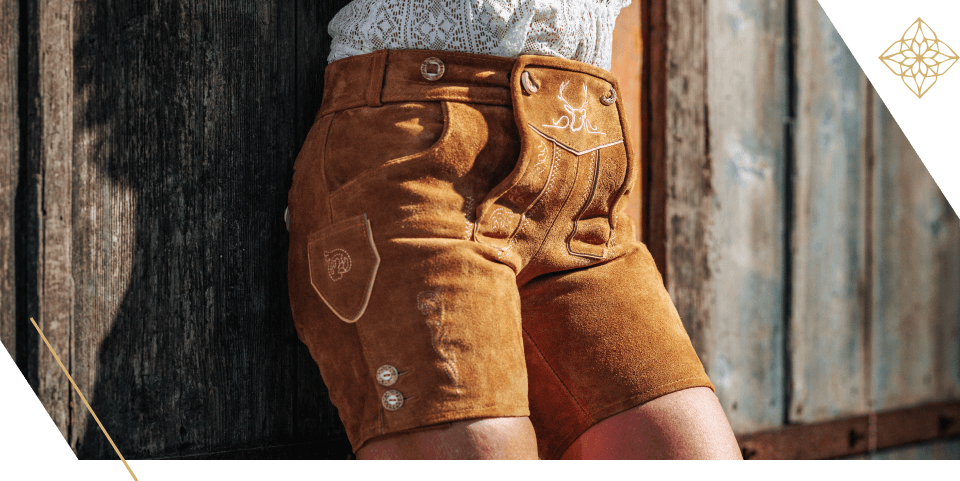 Say goodbye to Dirndls: Women's Lederhosen are the new Oktoberfest trend
Are you tired of wearing the same old Dirndl fashion to Oktoberfest every year? Looking for a unique and stylish alternative? Try wearing a Lederhose as a woman!
These traditional German leather pants offer a fun and practical way to stand out at the festival, while still embracing the rich Bavarian culture.
What should women wear to Oktoberfest if not a Dirndl?
Our Lederhosen are a great alternative that offer a different take on traditional Bavarian fashion. Paired with a cute blouse and some comfy shoes, you'll be ready to enjoy the festival with style and comfort.
Lederhosen for women offer just that, allowing you to move and dance freely without worrying about your skirt flying up or getting tangled. Plus, with their unique look, you're sure to make a statement!
With our women's Lederhosen, you'll have a unique and stylish alternative to the traditional Dirndl. So prepare for a fun and memorable Oktoberfest!
Rock Oktoberfest in style: Different women's Lederhosen types and what makes them unique
Here's everything you need to know about the different types of women's Lederhosen and what makes them one of a kind.
Trendy lederhosen: make a bold fashion statement at Oktoberfest
Looking to stand out from the crowd and show off your unique style at Oktoberfest? Then you need to check out trendy lederhosen! These hot pants-style Lederhosen are a must-have for women looking to make a bold fashion statement. 
Short Lederhosen are cut like hot pants and are perfect for showcasing your legs and booty. They're great for casual outings or cool parties and are the ultimate in trendiness. Pair them with a cute top and some boots for a look that's sure to turn heads. But beware, it could make other people fall for you!
Classic women's Lederhosen: Timeless style for Oktoberfest
For those looking for a more traditional style at Oktoberfest, classic women's lederhosen is the way to go. These timeless pieces are a foundation of the German Tracht and have been worn for centuries.
The knee-length Lederhosen is a classic option and is often worn with playful suspenders to complete the look. This style is perfect for those who want to keep it classic but still want to add a bit of skin to their outfit. 
The long Lederhosen is another classic option that is great for more formal occasions. It's typically straight cut and can be worn with a heavy belt for a more sophisticated look. It's a versatile piece that can be dressed up or down depending on the occasion.
One great thing about classic women's Lederhosen is that they come in a variety of colors and materials. You can find them in traditional brown leather or darker tones. And if you're looking for something even more unique, there are options with intricate embroidery and detailing.
Looking to buy a women's Lederhosen but not sure about the sizing?
When it comes to purchasing a Lederhosen, remember that it should fit tightly. The snug Lederhosen should hug your skin and feel like a second skin.
Keep in mind that Lederhosen are made of natural materials, so they will stretch over time due to your body heat and constant movement.
The waistband area does not stretch as much as the rest of the pants. But don't worry, the waistband of women's Lederhosen comes with a lacing at the back to adjust to your individual size.
Taking care of your Lederhosen is also important for its longevity
Leather needs to breathe and live, and it will change to be more comfortable the longer you wear it. A few stains or scratches won't hurt your Trachten Lederhosen. You can easily clean the spots with a leather brush or eraser. For a thorough clean, we recommend a professional leather cleaning service.
Avoid using a washing machine, as it can damage the leather.
Six care advices: How to keep your Lederhosen looking great
To ensure that you enjoy your pants for as long as possible, the following tips will help you with the cleaning and care of your favorite piece.
Wash your pants only when necessary. To remove unpleasant odors, it is often enough to hang the leather pants outside or in the bathroom to air out.
Most real leather pants are cleaned by handwashing. Still, pay attention to the care label instructions.
Only wash the pants with cold water and apply mild soap with a soft sponge. This will keep the leather soft and supple and prevent it from becoming hard.
Lay the pants flat on a towel to dry and keep them in shape.
Do not wring the pants out and avoid direct sunlight when drying.
For stains, carbonated mineral water can also help. Gently dab the stain to remove the dirt.
By following these care tips, your Lederhosen will stay in great condition for years to come, ensuring you look your best at Oktoberfest and beyond.
Wondering how to style your Lederhosen for a perfect look?
A "Trachten-mieder" is our favorite recommendation to showcase the beauty. It perfectly hugs your curves, accentuating your waistline and forming a sexy neckline with matching blouses. "Trachten-shirts" with various prints and colors, are also a great option for a casual and comfortable look. To complete your outfit, try adding a "Trachten-jacket" available in classic, modern, and sporty styles.
When it comes to shoes, the options are endless. High-heels or ankle boots can elongate your legs, while sneakers or ballerinas are perfect for a sporty or cute look.
Conclusion
Overall, women's lederhosen are a unique and stylish way to stand out at Oktoberfest. Whether you're looking for an alternative to the traditional Dirndl or just want to mix it up and try something new.
Remember, Lederhosen are not just a traditional garment; they can be a stylish and versatile addition to your wardrobe. With proper care and styling, they can last for years and become a foundation in your collection. Lederhosen are a fun and practical choice. So, grab a beer and cheers to a fun and fashionable Oktoberfest!
FAQ
What should women wear with Lederhosen?
Pair your Lederhosen with a cute blouse and some comfy shoes to complete the look.
How much does an authentic Lederhosen cost?
Authentic lederhosen can range in price. If you buy them from an artisan crafter it could reach the 4 digits. Expect to pay around $200 to $400 for a high-quality pair.
Who can wear Lederhosen?
Anyone can wear Lederhosen! It's a traditional Bavarian garment that can be worn by men and women of all ages and sizes.
Can plus-size women wear Lederhosen?
Absolutely! Lederhosen come in a variety of sizes, including plus sizes, so everyone can enjoy this traditional garment.
What type of Lederhosen is appropriate for different occasions?
Short Lederhosen are great for casual occasions, while knee-length and long Lederhosen can be dressed up for more formal events.
How do you spell German lederhosen?
When it comes to the traditional German garment known as Lederhosen, there's a plethora of misspellings that people commonly use. Here's a list of some of the most frequent misspellings of the word "Lederhosen": ledderhosen, ledenhosen, literhosen, laederhosen, leiderhausen, laderhozen, leader hosen, leiderhosen, liederhosen, laderhosen, leaderhosen, lederhose, lederhousen, leiterhosen, liderhosen, laterhosen, leder hosen.
It's important to remember that the correct spelling is "Lederhosen." To avoid confusion or miscommunication, be sure to use the proper spelling when searching for or discussing this iconic German attire.
Sign up and get a $10 store credit for your first order